Signature ACCESS
An economical and multi-functional converting system
Signature Access Folder Gluer
Economical and Efficient Folder Gluer
The Signature Access folder gluer is ideal for cost-effective production of a variety of folding carton designs eliminating the need for multiple machines.
Designed to run straight line, lock bottom, and 4&6 corner cartons
Servo backfolding device can run up to 250 mpm (40,000 sheets per hour)
Engineered for easy setup and quick changeover
Open design for operator-friendly accessibility
Model Sizes: 70-90-110 mm
Signature Access Carton Specs
| Model | 70 | 90 | 110 |
| --- | --- | --- | --- |
| SLB | • | • | • |
| 4/6 | • | • | • |
| Min. | 3.00" | 3.00" | 3.00" |
| Max. | 28.00" | 36.00" | 44.00" |
Signature Access Features
Signature Folder Gluers are designed to be versatile, offering specialized, unique machines for your individual packaging needs. The features below are just a few of the customizing options available on the Signature Access.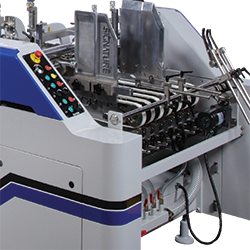 Feeder Section
Highly versatile Signature™ feed section with pneumatically lifted feed gates and side guides, allows for faster change-over and blank removal.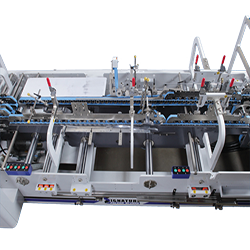 Pre-Break Section
180-degree 1st and 3rd score pre-break and compound folding options. Includes an extended height 3rd score pre-break area for large cartons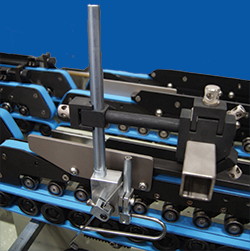 Crash-Lock Bottom
Designed as a single clamping system that can be pre-assembled and quickly positioned to reduce setup time.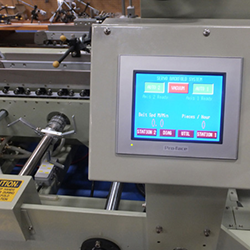 Servo Backfold System
For reliable 4&6 corner productivity. Touch screen control adjustments can be made without the need for shaft reconfiguration.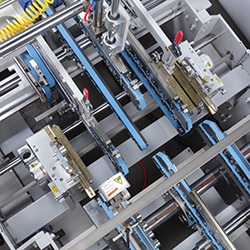 Glue Pots
Left and right glue pots are standard for gluing A&B style cartons and adding more versatility. Glue wheels of various widths are available, knurled or smooth.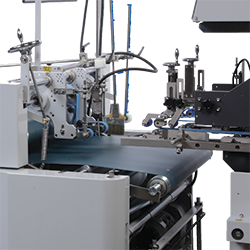 Compression Section
The compression section includes a two-stage pneumatic pressure control for accurate glue bonding.