Need Replacement Parts for Your Signature Folder Gluer?
American International Machinery (AIM) offers competitively priced replacement parts for Signature Folder Gluers and Signature brand of ancillary converting equipment. 
Every Signature machine receives detailed parts manuals identifying all parts that are utilized on each machine. When ordering parts, it is helpful to have this manual on hand.
To ensure the correct part is ordered, please have the following information ready:
Your machine number
Serial number
Type/name of machine (Elite, Premier, SIG-FEED, etc.)
From the parts manual, please have the page number, item number and part description.
No parts manual to reference? No problem! Simply send us a picture of the needed part along with where it is located on the machine and we'll do the rest. 
Parts that are in stock can ship out the same day, if needed. Please contact our parts department at 414.764.3223 by 2:30pm CST Mon – Fri to ensure next day service.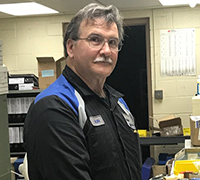 Don Gray
Parts Manager
Don has been in the converting equipment industry for over 40 years and knows his Signature Folder Gluers! An experienced machinist, he often troubleshoots equipment issues over the phone, researches parts-related questions, and is just a nice guy to talk to! Don's motto is "Work hard for every customer, every day, because at AIM we aim to please!"
Shannon lepine
Shannon joins Part's Manager Don Gray, teaming up to provide the outstanding service AIM is known for.