Signature COMPACT
Signature's small box champion
Signature Compact Folder Gluer
Signature's Small-Box Champion
The Signature Compact folder gluer has a condensed footprint making it an excellent option for converters with limited floor space, or for businesses new to the packaging sector. 
Designed to run small lock bottom and straight line cartons
Requires minimal floor space
Run speed up to 425 m/m
Ideal for cosmetic, pharmaceutical and vending industries
Model Sizes: 70-90-110 mm
Signature Compact Carton Specs
| Model | 70 | 90 | 110 |
| --- | --- | --- | --- |
| SLB | • | • | • |
| Min. | 2.25" | 2.25" | 2.25" |
| Max. | 28.00" | 36.00" | 44.00" |
Signature Compact Features
Signature folder gluers are designed to be versatile offering specialized, unique machines for your individual packaging needs. The features below are just a few of the customizing options available on the Signature Compact.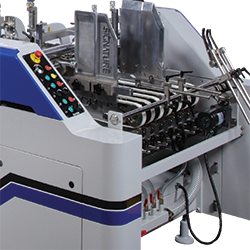 Feeder Section
Highly versatile Signature feed section with pneumatically lifted feed gates and side guides, allows for faster change-over and blank removal.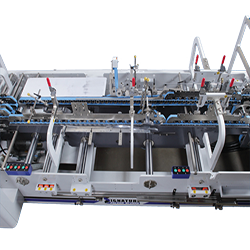 Pre-Break Section
180-degree 1st and 3rd score pre-break and compound folding options.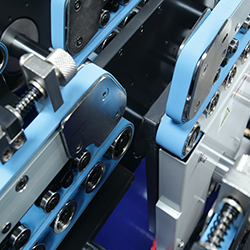 Offset carrier belts
Strong blank support along a score line is accomplished with lower carrier belts that are slightly wider than the top carrier belts.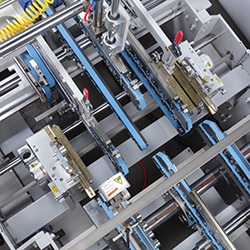 glue pots
Left and right glue pots are standard for gluing A&B style cartons and adding more versatility. Glue wheels of various widths are available, knurled or smooth.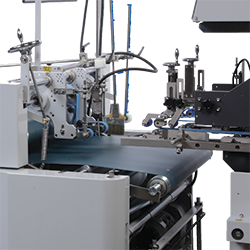 Compression Section
The compression section includes a two-stage pneumatic pressure control for accurate glue bonding.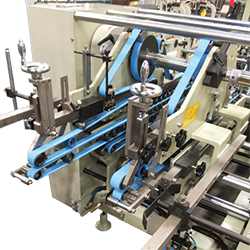 Double Trombone Transfer Station
Optimize over and under stacking with automatic belt tensioning when repositioning the trombones.