Employee Spotlight…Don Gray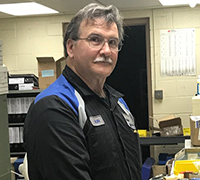 If you've had the pleasure of speaking with Don Gray, AIM's Operations Manager, then you know Don's motto "Work hard for every customer everyday, because at AIM we aim to please" is more than just words.
His favorite part about working for AIM, "nothing better than helping out our customers when they are having a problem."
Did you know that Don does not have any phobias? What kind of hobbies does a person have that is not afraid of anything….why cooking and baking of course! Don also enjoys football and he's an avid golfer. 
Along with cooking and baking, Don also enjoys football and he's an avid golfer. You'll