Employee Spotlight… Jesse Rios
Jesse Rios is AIM's Electrical Mechanical Engineer, which means he has patience like none other. Jesse has been with AIM for 11 years focusing on troubleshooting electrical and mechanical issues and is often dispatched to customer locations to get things operational as quick as possible!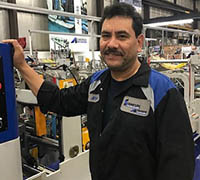 In fact, that is Jesse's favorite part about working for AIM….the challenge that comes with solving these issues."There's nothing like the satisfaction of a job well done when the customer's machine is back online."
Jesse loves spending time with his family and watching baseball in his spare time. He also enjoys DIY projects at home. The one thing that can steer Jesse away from the things he enjoys…….spiders!