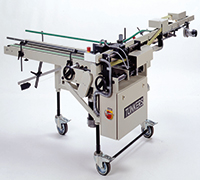 American International Machinery, Inc. (AIM), the exclusive supplier for the Signature brand of converting equipment for the paperboard and corrugated industries, is pleased to announce they have partnered with Tünkers as the authorized distributor in North America for their semi-automatic packaging system, the FAS 480.
The FAS 480 is designed for easy maneuverability and can be used on any folder gluer machine. It has an independent electric drive allowing operators to control the carton flow speed directly from the packaging machine itself. The FAS 480 turns the carton to the right or left as it exits the gluer for easier packaging by the operator, increasing output by up to 50%.
The FAS 480 supports all standard folding boxes of solid board, E-Flute, and B-Flute including straight line, 4&6 corner, and crash-lock cartons. It can handle boxes with a minimum size of 40mm up to a maximum of 420mm wide by 480mm long.
"We are very pleased to partner with Tünkers, a second generation, family owned company that values innovation and customer needs just as we do," states Kevin Koplin, managing director for AIM. "The FAS 480 is an efficient and reliable semi automatic packer that will be a fantastic option for many of our customers looking to increase productivity on existing equipment."
AIM technicians can perform service and maintenance functions on the FAS 480 for customers in North America.
For more information on the Tünkers FAS 480 semi automatic packer, contact AIM at sales@americanintl.com or 414.764.3223. Video of the FAS 480 can be viewed here.
About American International Machinery
American International Machinery (AIM) is a second generation, family owned business that provides a comprehensive line of products and support services for the paperboard and corrugated converting industry including new, remanufactured, and used equipment. AIM established the Signature brand of folder gluers as one of the top brands of equipment in the industry and prides itself on the versatility and affordability the line offers. AIM excels in efficient customer service along with customizable equipment options specific to the unique needs of our customers.
About Tünkers
TÜNKERS Maschinenbau GmbH is a family business in the second generation and is a factory equipment supplier and, together with its subsidiaries – with approximately 1.200 employees worldwide – including Germany, England, France, Spain, Brazil, the USA, China and India, i.e. everywhere where the automotive industry is strong. The company has a broad product range that shapes automation technology in the body shop in the industrial robot environment with the topics of clamping, positioning, traversing, forming, conveying, gripping, turning, welding and transporting.
TÜNKERS is a company that is always on the lookout for new markets and new products, true to the company's own slogan "Inventive spirit in series." a new product idea is born every day and a new product is developed every week. This is also reflected in the more than 300 patents in Germany and abroad, which safeguard the know-how of the group of companies.