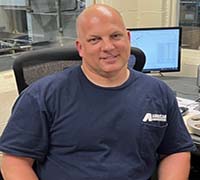 American International Machinery (AIM) is pleased to announce that Shannon LePine has joined our team! Shannon is a welcome addition to the Parts Department and is ready to assist customers with their Signature Folder Gluer needs.
Shannon's 20-plus years of experience in the automotive industry has provided him with an extensive skill set in customer service and inventory control. When asked about his new venture with AIM, he replied "I am excited to be part of the team. I am looking forward to developing working relationships with our customers and vendors."
Welcome aboard, Shannon!