Employee Spotlight… Brent Gatbonton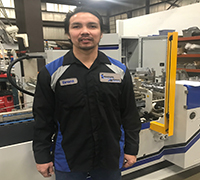 AIM is pleased to welcome Brent Gatbonton to the team! Brent  has extensive experience in electrical and mechanical capacities and his problem-solving skills are a welcome addition to an already talented team.
When Brent isn't at work, he enjoys spending time with his family and friends, traveling, and riding his motorcycle. He also loves his espresso machine, but seriously, who doesn't love their espresso machine?
When asked what is the craziest food Brent ate, his reply earned him the AIM crown for weirdest thing ever eaten – Rye Field Crickets. 
Brent is looking forward to meeting our customers as he transitions to field work.