American International Machinery Co-Founder Jerry Coleman Passes Away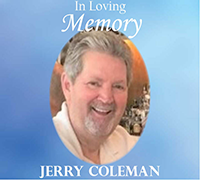 Jerry Coleman, retired co-founder of American International Machinery, Inc. passed away peacefully on Friday, September 27 surrounded by family and friends. He was 72.
Jerry and his brother Bob Coleman, started American International Machinery in as an equipment supplier for the converting industry. Soon after, the Signature brand of converting equipment was born and American International Machinery became the exclusive supplier for the Signature brand. Jerry took great pride in the growth and direction he helped create ensuring the company's focus stayed customer-centric.
Jerry Coleman retired in 2011 with his nephews, Andy, Rick and Dave, and business partner, Kevin Koplin, taking over the operations. Since then, the company has expanded its equipment line to include corrugated converting in addition to the established folding carton line.
Jerry was a true family man and loved spending time with his children. He was an avid golfer and enjoyed boating.